Got a question? Chat to one of our team members instantly with our live chat service
Free Preview of your news plaque - try before you buy
See your plaque with free custom preview image
Tell us the publication & article, we'll do the rest
Preview turnaround time within one working day
No costs involved - there is no obligation to buy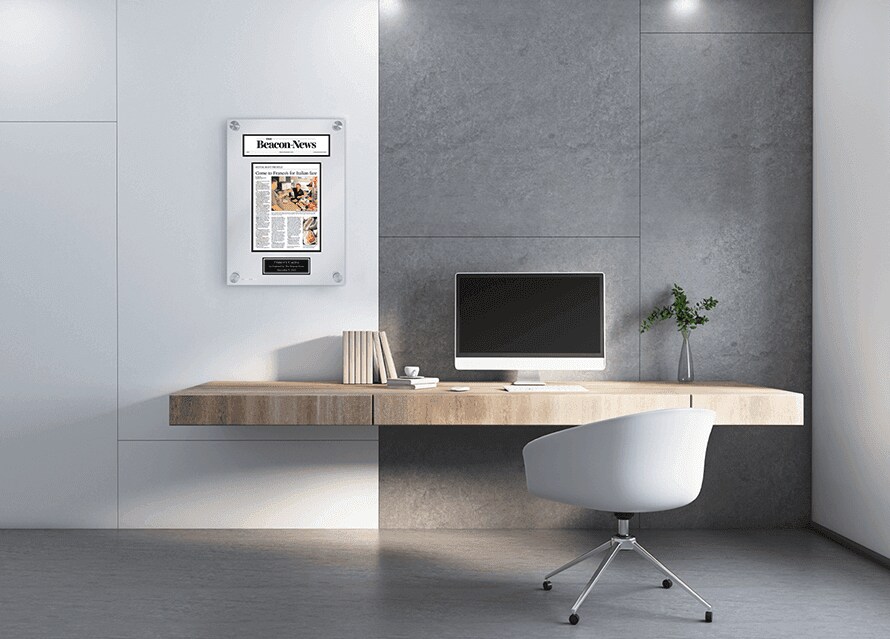 Celebrate and preserve your press recognition with a high quality custom plaque. Unlike traditional framing our process ensures your article never fades and yellows. That's Great News saves you time too, as we do all the work needed to create a beautiful display.
If you're looking to frame a newspaper article, we'll look after all the details - including sourcing the original article, designing a beautiful display frame and producing a high-quality product that will look good for a lifetime. Our graphic design team has over 15 years' experience in article framing and our magazine frames take pride of place on the walls of over 300,000 offices across the country.
With a range of size, material and color options available, we can produce a completely custom-made magazine picture frame to preserve any print or online article. We believe in the quality of our product so strongly that we offer a 30-day 100% money back guarantee on all magazine and newspaper frames.
For a sneak peek at our newspaper and magazine article framing services, request a free preview today of your magazine frame and we'll take it from there.
Testimonials
" We love our That's Great News plaque. It's a professional and stunning piece and we're proud to hang it in our office! "
-Boomerang Tours, Inc.
" Nothing is as powerful as explaining the award to clients in my office with my That's Great News plaque hanging behind my desk. "
-Adam Soloff, EA, CFP®
" We proudly display your plaques dating back 10 years! It's the first impression people get when they walk in. "
-Host.Net
Previous
Next